Music Technology at Lewis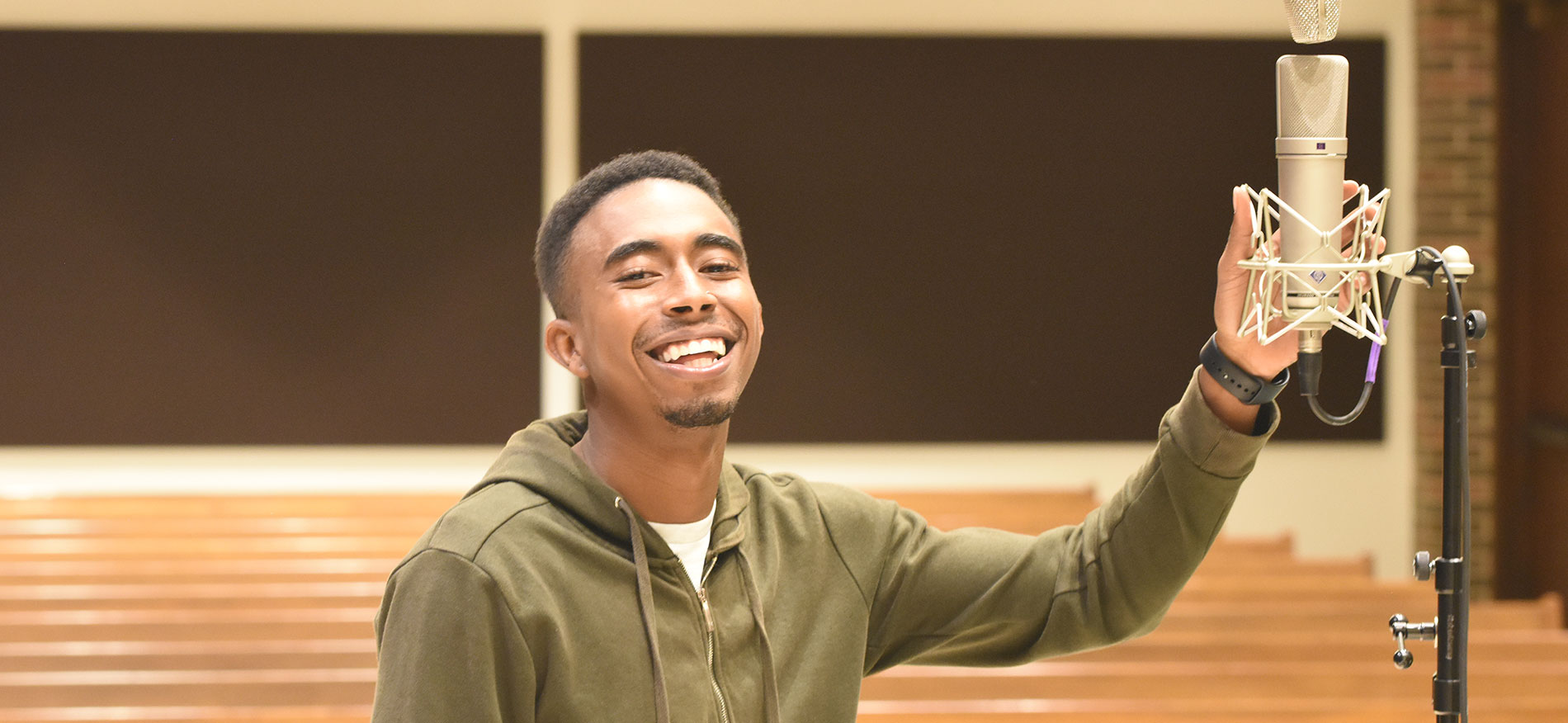 About Music Technology at Lewis
The Lewis University Music Department is committed to providing students with state of the art technology to assist them in creative endeavors and to help them develop their musical skills. State of the art electronic music lab is continually being updated as technology progresses.
The Department of Music is home to two primary facilities dedicated to music technology:
minor in music technology
. In addition to creative projects and classes, Students in music technology classes get further hands on experience recording concerts and projects for the university, providing sound reinforcement for Arts&Ideas events, and being involved in the production of the internationally acclaimed,
Electronic Music Midwest Festival (EMM)
whcih brings over 50 professional electroacoustic composers to campus for nine concerts in during the fall term.
For further information about music technology at Lewis University, please contact
mcferrmi@lewisu.edu
Recording Studio
The Electronic Music Facility at Lewis University houses a state-of-the-art Recording Studio and Digital Audio Post-Production Studio (DAPPS). This facility features:
Macintosh 27" iMac
Tofts Audio ATB 24X8 mixer
ADAM A8X monitor speakers
ADAM Audio Sub12
Apogee Symphony
Avid Artist Mix
TC Electronics D-Two FX
Roland SRV-3030 FX processor
Lexicon MX200 FX processor
Several high-end microphones manufactured by companies such as Royer, Neumann, Telefunken, Schoeps, Mojave, Earthworks, THE Audio, MikTek, Blue, Shure, AKG, Rhøde, Crown, and Audio Technica
This iMac has notation, sampler, sequencing, and ProTools DAW software installed. Microphones and a portable hard disk recorders can be checked out by students for field sampling and recording projects.
CAI Lab
The Department of Music features a computer-assisted instruction (CAI) and MIDI lab with state-of-the-art technology and is continually being updated as new technologies become available. Open to students for over 60 hours per week, this lab is used primarily for music theory/ear-training skill development, composition, and research. Workstations are networked for audio, LAN, and internet. In addition to commercial software, computers are also loaded with theory/ear-training software developed by students and faculty at Lewis University.

Students are encouraged to work on personal creative endeavors such as composition and orchestration. The electronic lab provides students with the necessary tools to create a professional product. Students can promote their music by creating their CDs and uploading MP3 files to a website.

This facility features:
Allen&Heath Zed24 Mixer
ADAM A8X monitor speakers
ADAM Audio Sub12
HHB CD-R
Macintosh 27" iMacs
M-Audio Keystation 61es controllers
Roland RS-9 keyboards
Avid Mbox2 and Focusrite Scarlett audio interfaces