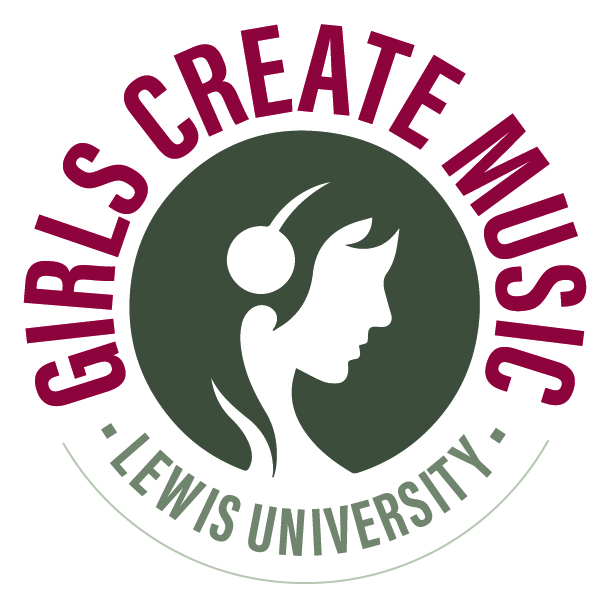 DATE & TIME
July 25-29, 2022
9:30am-5pm
WHERE
Lewis University
One University Parkway
Romeoville, IL 60446
Oremus Fine Arts Building
FEE
None! This camp is free. Lunch & T-shirt provided.
AUDIENCE
All students, ages 12-18, who identify as female.
QUESTIONS?
Contact the
Music Department
Application is Closed
The Girls Create Music Camp
brings approximately twenty aspiring musicians who identify as female (ages 12-18) to Lewis University, free of charge, for a week of learning about songwriting, music production, and recording techniques. Working collaboratively with professional musicians, students will create, record, and produce original music. Campers will also develop basic music theory skills and learn about the contributions of women to popular music and culture of the 20th and 21st centuries.
A substantial gender imbalance exists in the music industry. A research study published in 2020 by the USC Annenberg Foundation reported that 12.5% of songwriters and only 2.6% of producers were women.
1
In the study, researchers found that one of the core drivers of gender inequality in the music industry is lack of access to educational resources. The aim of the
Girls Create Music Camp
is to contribute to the ongoing efforts to address gender disparity in the music industry by providing arts education that emphasizes representation and inclusivity.
Interested in Attending or Supporting Girls Create Music?
Daily Schedule
9:30am:
Drop-off and Welcome
10am:
Improvisation Workshop

Campers work with professional musicians, workshopping their original songs.

11am:
Pop Music History - Women in Music

Campers learn about the contributions of women to popular music and discuss issues related to gender and equity in the music industry.

Noon:
Lunch and Social Activities
1pm:
Recording and ProTools

Campers learn about microphone techniques, Pro Tools (digital audio workstation). Students work on recording original works in the recording studio.

2pm:
Songwriting

Campers work collaboratively and independently on original songs.

3pm:
Audio Class

Campers learn basic music theory, audio theory, MIDI, etc.. and continue to work on creative projects.

4pm:
Recap and Social Activities

Campers listen to each others' works and participate in social activities designed to strengthen confidence and creativity.

4:30pm:
Departure