Chamber Choir Audition Information
Chamber Choir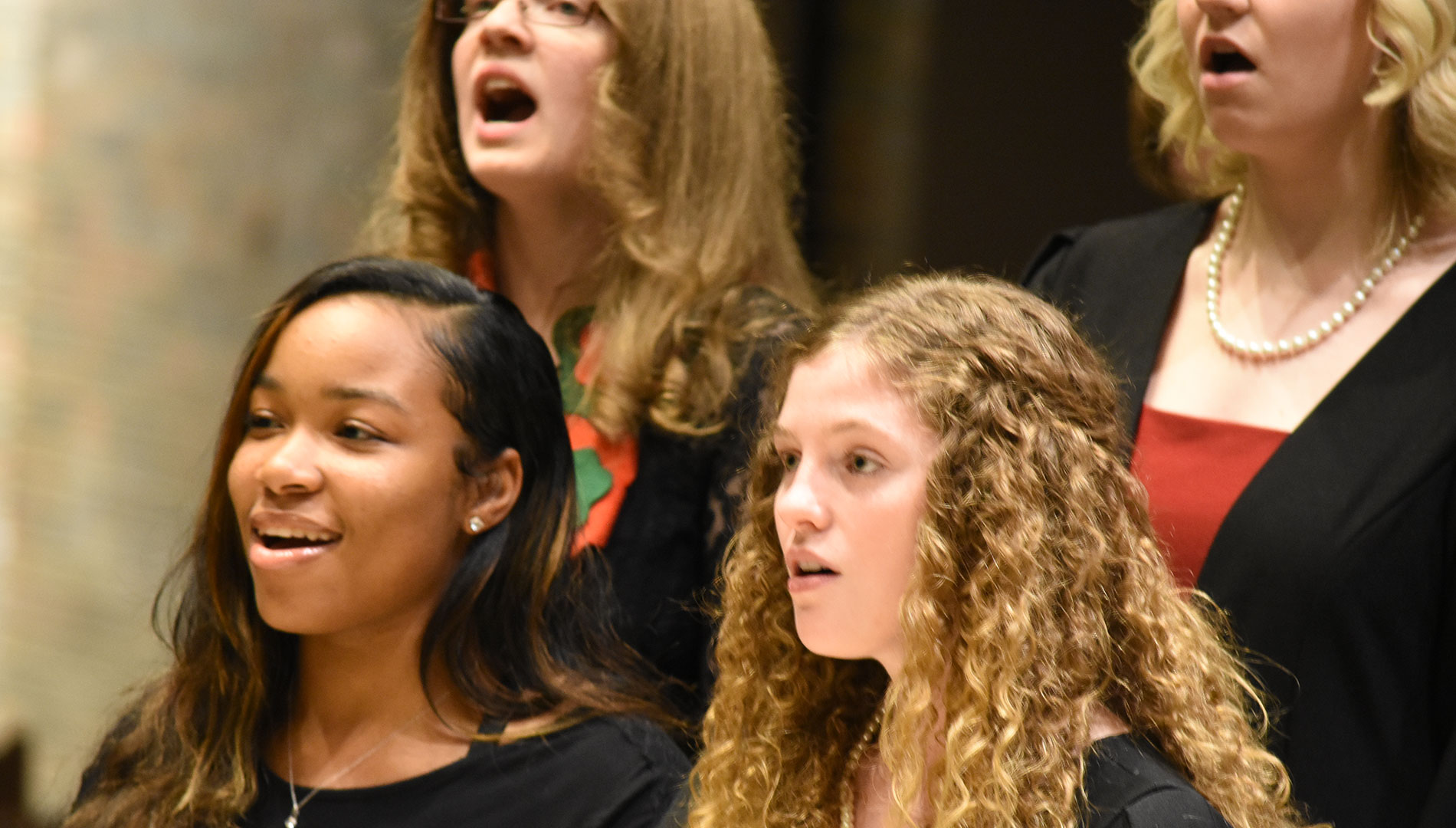 About the Choirs
Chamber Choir
is a group of about 32 men and women singing all styles of music ranging from the Renaissance to modern choral, jazz, and a cappella pop. Singers work to develop vocal technique, precision in tuning and rhythm, sight-reading ability, confidence in performance, and ensemble skills including blend and balance of voices. The group meets from 4:00 to 5:30 on Mondays and Wednesday afternoons, plus a 45 minute sectional rehearsal every other week. Intermediate to advanced level. Previous choir experience is helpful but not a class requirement. Placement is by audition.
1 credit
Cantabile Choir
is an open enrollment women's choir of flexible size. The choir sings a variety of choral music written for soprano and alto voices. Singers work to develop vocal technique, precision in tuning and rhythm, sight-reading ability, confidence in performance, and ensemble skills including blend and balance of voices. This group meets from 1:00 to 1:50 on MWF. An audition is required in order to determine the singer's voice part in the choir. Beginning to advanced level. Previous choir experience is not needed. This class appears in the Course Catalog as the 11:00 MW section of Chamber Choir.
1 credit
Altitude
is a group of 8-12 singers specializing in close harmony and jazz singing. Rehearsals are scheduled around the availability of qualified singers, but typically held on Friday afternoons. Singers develop vocal ensemble skills as well as the ability to sing on individual microphones. Enrollment in one other music department ensemble is required. This group does not appear in the course catalog and is not a credited class.
Audition Information
Auditions are specifically for placement Chamber Choir, Cantabile Choir, and Altitude. Other vocal ensembles have their own entrance auditions; contact the
Department of Music
for more information.
Auditions are open to all students and do not require advance preparation. The director and usually at least one voice teacher hear the audition. You are not required to sing in front of other students. NO PREPARATION IS NECESSARY. AUDITIONS ARE SPECIFICALLY DESIGNED TO BE LOW-STRESS for new singers, but they still allow experienced singers to demonstrate what they can do. An audition lasts approximately 10 minutes and consists of:
Vocalization: Sing scales or choral "warmups" to determine your vocal range. Typically, we will start in a medium range and work to your lowest note, then start again in a medium range and work to your highest note.
Solo song: Sing something you know that demonstrates your ability. It does not need to be memorized and it does not need to be a complete song. If you have previously sung in a "solo & ensemble" contest and you can bring your music, that is helpful; however, you may also simply choose to sing a familiar song from radio, Broadway, Disney, or even a patriotic song or church hymn. Some singers even sing "Happy Birthday." The key is to sing something you're comfortable singing.
Pitch matching: You will hear a group of four notes played on the piano. Sing them back to the director using any syllable ("loo loo loo loo" is typical).
Sight reading (optional). You will be given a short piece and the starting note. After studying it for approximately 30 seconds, you will be asked to sing it. The solfege syllables (do re mi fa so la ti do) are included under the notes for students who have experience using them. If you have never read sheet music before, this section may be skipped.
2-part singing. You will be taught a very short melody and practice it 3-4 times, then sing it by yourself while a voice instructor sings a harmony part against it. Do your best to stay on your own part.
If you are interested in participating in vocal jazz ensemble, you may be asked to sing a specific exercise to test your tuning while singing more difficult harmony.
An opportunity to ask any questions you might have about choir or voice lessons.
Auditions will be held in
Ives Hall
, on the second floor of the Oremus Fine Arts Building during Welcome Week:
Friday, August 24, 10:00am-3:00pm
Saturday, August 25, 1:00pm-3:00pm
Monday, August 26, 10:00am-12:00pm: Cantabile Choir only (shorter audition, just for placement into soprano/alto section).

Schedule and Audition
If you have any questions, email Mr. Jeremy Landig, director, at
landigje@lewisu.edu.
You may also "drop in" during the audition times. Students who have pre-registered for choir should plan on completing an audition during one of these three time ranges.